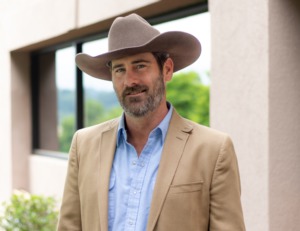 How can you tell that Brett and the Griffin Home Group hit it off? After utilizing the Griffin Home Group for his own home purchase, we decided to join forces. Brett earned his Tennessee real estate license and Realtor designation as well as membership with the National Association of Realtors, Tennessee Association of Realtors and the Bristol Tennessee Virginia Association of Realtors. Brett now "hangs his hat" at the Griffin Home Group where his personality and knowledge of a wide variety of subjects make him a welcome addition to our team.
Brett and his family's love of east Tennessee's landscape and culture landed them in the tri cities area where they never looked back. His loving family includes his amazing wife, little boy and their Plott hound. Brett spends most of his free time hunting, fishing, camping and hiking in "God's country".  He is an outspoken advocate for conservation and public land access.
Brett Mitchell credits a large portion of the shaping of his life to his start in the Boy Scouts of America. Where he was not only a member but an instructor of archery, rifle, canoe, lifeguard, and Cub Scout camp counselor.  The values and lessons he learned there are still apparent in his character today. 
Brett's drive to "create things that are bigger than you" led to a successful career in the construction industry including several notable projects such as a project leader on the Daytona Rising project at Daytona International Speedway, a crew leader on the original animal pen and perimeter fence installation at Disney's Animal Kingdom and several projects for the State of Florida.
Along with construction Brett has had success in the maritime industry, earning a USCG 100 ton Masters license as well as several additional certifications. Managing several yachts, companies and deliveries he also operated offshore fishing and diving charters. Brett's love of science made working with several research groups a natural fit. Working as captain and navigator for Florida Fish and Wildlife Commision reef species survey and tagging research trips, University of South Florida oceanographic research department's red tide monitoring surveys, and NOAA offshore weather buoy servicing and monitoring trips.
If his life wasn't busy enough, Brett found time to found and run a pasture based heritage breed livestock operation out of Micanopy Florida. He handled acquisition of the land, development of the infrastructure, selection of the foundation stock and oversaw all animal husbandry matters.